Fri, 12 February 2021
Dr. Deren Flesher Gets Out of the Dentistry Bubble (DHP317)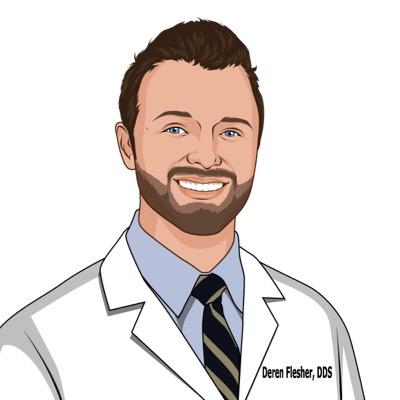 Dr. Deren Flesher joins the Dental Hacks to talk about mobile dentistry as well as using your position in dentistry to create opportunities outside of the dental office! Deren has a thriving startup practice but has always wanted to own and run businesses besides dentistry. Our conversation is wide ranging about all kinds of businesses! Some topics we discussed are:
Deren owns some Papa John's Pizza joints!
What does Deren consider "the dental bubble?" What kind of dentists should look for opportunities outside dentistry?
How did Deren get into mobile dentistry? How has he incorporated it into his schedule and how is it different than his startup?
Deren enters the cannabis industry! He's involved with a grow operation as well as supply chain/delivery!
How does someone find opportunities "outside the bubble?"
Dentistry is the fuel to Deren's business expansion!
How does Deren build connections with potential business partners? How does he "cross pollenate" business ideas?
Does Deren aspire to be "nonclinical?"
Some links from the show:
Interested in Senior Dental Care (the company Deren works with)? Email Deren at derenflesherdds@gmail.com.
Dryshield (he won't work without it!)
Dental Hacks Deals!:
Dental Hacks Medit i500 deal! (starting at $17k + lab credit, rebate gets bigger the more our group takes advantage!) Email us at info@dentalhacks.com and use "Medit" in the subject line or tab Jason on Facebook or text "Medit" to (804) 885-2233!
Enova Illumination has an amazing Dental Hacks discount on loupes and lights. Get that information at: https://form.jotform.com/210247991392056
Be sure to get your Dental Hacks pricing at Crazy Dental by using coupon code: DHN10
The Dental Hacks Nation closed Facebook group has 29,000 members! Head over there to interact with other Dental Hacks listeners, guests and Brain Trust members every day, all day! Remember…if you don't have anything "dental" on your FB page, we might decline your membership request. So IM the group or email us at info@dentalhacks.com!
Continuing Education in the time of pandemic has gotten interesting. And Cosmedent is here for it! They've figured out a way to bring their amazing, hands on courses and instructors to you...but now done remotely! For instance, Dr. Corky Willhite will be giving his incomparable "Ultimate Esthetics with Composite: The Basics of Layering to Advanced Techniques" course on February 25-26th! Every patient can't afford porcelain, and most people don't want their teeth "drilled down." Composite provides fully functional restorations whether it's a Class IV, diastema closure, shade change, adding length, or many other changes. How does it work? The course goes from 9am-1pm on Thursday and Friday. You can purchase just the course or (and this is what you should do) you can get the course AND all of the course materials that Corky will be using in the hand on exercises! You'll even have a chance for one on one interaction with Corky to make sure you're really getting it. If you're looking to up your composite esthetics game there is no one better to learn from than Dr. Corky Willhite! And Cosmedent's virtual live courses are a game changer. Be sure to check it out at dentalhacks.com/ultimateesthetics!
Our friends at YAPI have a bundle that they call "the Works" that can do a LOT of stuff! Intraoffice communication, paperless forms, patient reminders, managing reviews...it really is THE WORKS! It will replace multiple services you're already paying for and it will likely cost you less! And even bigger news! YAPI is having an AMAZING Black Friday sale staring November 27th going all the way through cyber week! You'll save $25/month on "The Works" package for an entire year AND they'll waive the set up fees! This is a deal that should not be missed...starting on Friday, November 27th going all the way through Cyber week!
Check out all that YAPI can do for you at dentalhacks.com/YAPI. It's a funny name, but it's serious software!
Go Hack Yourself
Jason: compounded topical anesthetic gel
Alan: Fender wedge, Garrison Compositight Fusion 3D Interproximal Wedges
If you have any questions or comments for us please drop us an email at info@dentalhacks.com or find us (and like us!) at www.facebook.com/dentalhacks. If you like us, why not leave us a review on iTunes? It helps us get found by like minded people and might even help us get into "What's Hot" in the iTunes store! Go to this link and let the world know about the Dental Hacks! Finally, if you aren't an Apple person, consider reviewing us on Stitcher at: stitcher.com/podcast/the-dentalhacks-podcast!
If you would like to support the podcast you can check out our Patreon page! Also be sure to check out the Dental Hacks swag store where you can find t-shirts, stickers coffee mugs and all sorts of other things that let the world know you're a part of the Dental Hacks Nation.
---